Moss-draped crumbling castles, cliffs overlooking a sapphiric sea, windswept, wide-open crags–Ireland is a country rich in lore and beauty.
The following books will take you to a place reminiscent of Ireland, either because they're based in that evocative emerald isle or based off Irish lore. Enjoy your trip! 🙂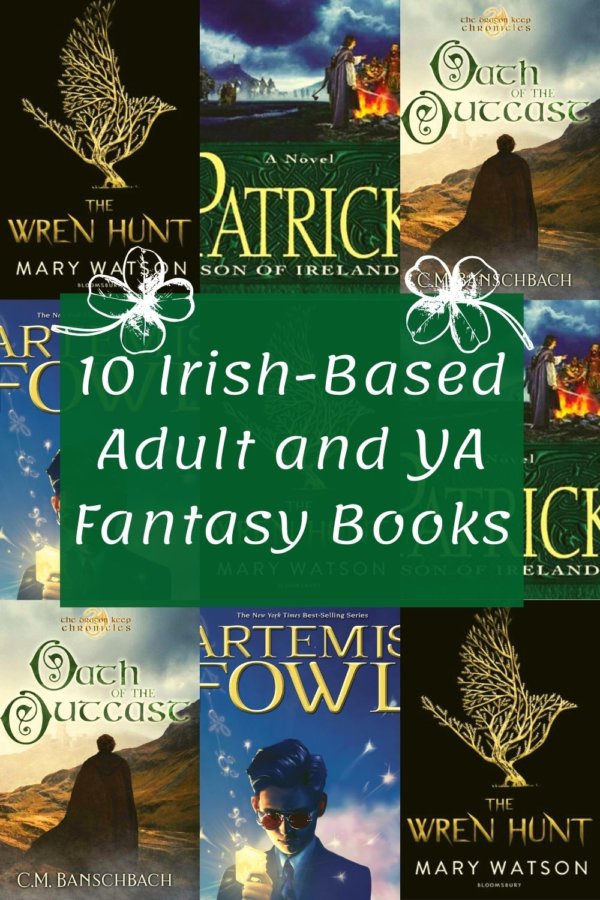 Oath of the Outcast C.M. Banschbach: In this duology, Rhys MacDuffy is serving as the Mountain Baron when he receives a message that his beloved brother has been taken by his enemies. Many brotherly and Irish vibes can be found in this heroic fantasy.
Artemis Fowl by Eoin Colfer: Besides taking place in Ireland, this YA/children's fantasy has many fun Irish jokes and lore hidden in it. Also, if you listen to it on audio book, you get to listen to the narrator's lovely Irish accent!
The Wren Hunt by Mary Watson: Fantasy and reality meet in contemporary Ireland in this YA fantasy. In a desperate plan to save her family, Wren takes a dangerous undercover assignment as an intern to an influential Judge–an enemy of her family. Caught in a web of deceit, Wren must decide whether or not to gamble on a spell and seal her people's fate.
Patrick: Son of Ireland by Stephen Lawhead: Follow the man the holiday's named after as he's torn from his Welsh family at a young age and sold as a slave, as he learns the mystical ways of a secretive order, and fights and returns home in this adult historical fantasy.
Lament by Maggie Stiefvater: Venture into the darker world of faerie in this paranormal YA fantasy where Deirdre finds herself infatuated with a mysterious boy who turns out to be a gallowglass―a soulless faerie assassin. Life soon becomes much too exciting when Deirdre becomes trapped in the middle of a centuries-old faerie war.
Daughter of the Forest by Juliet Marillier: In a fairy tale retelling of 'The Six Swans' with an Irish twist, Sorcha's father is bewitched by his new wife, an evil enchantress who binds her brothers with a terrible spell, a spell only Sorcha can lift—by staying silent. If she speaks before she completes the quest set to her by the Fair Folk and their queen, the Lady of the Forest, she will lose her brothers forever.
Finn Mac Cool by Morgan Llywelyn: This Irish author breathes life into the legend of Finn Mac Cool, mightiest of the Irish heroes–a leader of the invincible army of Fianna, a poet, and lover.
The Hunter's Moon by O.R. Melling: While backpacking around Ireland, under the dangerous Hunter's Moon, Gwen's cousin Finn is kidnapped by the Faerie king, who wants her for a bride and possible sacrifice. It's up to Gwen to rescue her cousin.
Circle of Nine by Valerie Biel: Brigit just wants to be normal. Instead, she learns she's descended from a legendary Celtic tribe who serve as guardians of the stone circles of Ireland. Their powers could be hers–if only she wanted them. But when someone sinister returns to steal her family's strength, Brigit must make a decision that will change her life forever.
The Dreaming Tree by C.J. Cherryh: Journey back to the land of faery in this Tolkien-esque book where a man with Elvish blood must put aside his humanity to save his people against an awakening evil.