Collection of Short Stories and Poetry
Synopsis
A diverse collection of flash fiction, short stories, and poetry, Wither and Bloom explores the choice to love through trials and storms in all seasons of life–from new loves, lives built together, and long-lasting romances, to platonic love between family, friends, and strangers.
A man and his wife who turned into vampires at age eighty-five. An EMT who chooses to save a child despite the life-altering consequences. A fae who doesn't take kindly to an arranged marriage with a human prince. The children that throw wrenches into even the most stable relationships. The man made of stone who falls in love with a woman who has her own stone walls. The post-it notes that keep spouses tethered during their busy lives. In the midst of diagnoses, loss, misunderstandings, hurt, and everyday wear and tear, love is a daily choice.
My Thoughts 
This collection of poetry, short stories, and flash fiction was the perfect thing to read this Valentine's Day. Most of the pieces are about romantic love; only a small section at the end was about other forms of love, which surprised, but didn't bother me.
I do wish that more of the stories were fantasy/sci-fi. Most are realistic/contemporary, which is fine, but not very fun/interesting to a fantasy fanatic :). They were beautifully well-written, though, and the poems were clear, deep springs that I will return to drink deeply from in the future.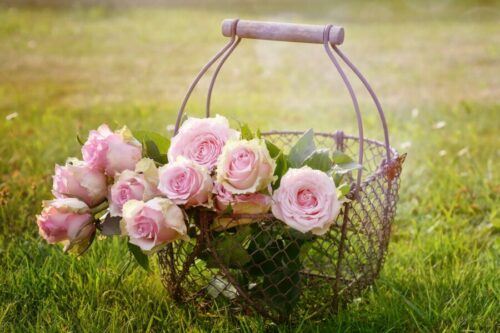 The flash-fiction pieces weren't my favorite–they were too short for me to feel invested in the characters and story–and I wish there were more longer pieces.
I loved how the book was split into provocative sections–falling, enduring, abiding, cherishing–all integral parts of romantic love.
At about the halfway point (in the abiding section), several stories seemed to all be about memory loss in older couples, which was so depressing! The stories themselves were mostly sweet, but after reading three or four stories about someone forgetting who their spouse is–no matter how lovely the ending–it will wear on you! I was surprised that the editors had so many of those bunched together because it really did get me down.
But on the whole, Wither and Bloom was a honey-sweet book about not only falling in love, but loving even when it's hard. I appreciated how the collection took us past the 'honeymoon' stage of love with all its gooey feels into the nitty-gritty daily choice of love which is harder but more beautiful.
I'd honestly recommend this for anyone who's ever been loved or wants to be loved.
Do you ever read short stories or poetry? Which would you rather read?