Legacy of Orisha #1 
Synopsis 
Zélie Adebola remembers when the soil of Orïsha hummed with magic. Burners ignited flames, Tiders beckoned waves, and Zélie's Reaper mother summoned forth souls.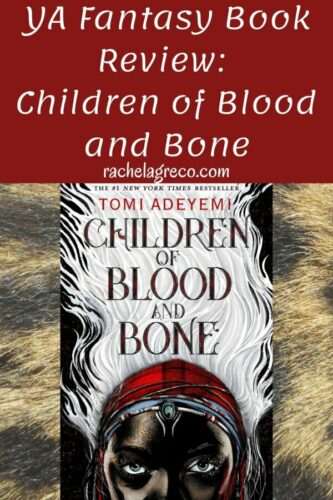 But everything changed the night magic disappeared. Under the orders of a ruthless king, maji were killed, leaving Zélie without a mother and her people without hope.
Now Zélie has one chance to bring back magic and strike against the monarchy. With the help of a rogue princess, Zélie must outwit and outrun the crown prince, who is hell-bent on eradicating magic for good.
Danger lurks in Orïsha, where snow leoponaires prowl and vengeful spirits wait in the waters. Yet the greatest danger may be Zélie herself as she struggles to control her powers and her growing feelings for an enemy.
My Thoughts
The worldbuilding in Children of Blood and Bone was phenomenal. I loved all the unique details, from the leoponaires to the African-inspired food and clothing. The government, religion, and magic system were all well thought out and told in a clear, yet non-info dumping way. The magic was creative, and I still have questions about how it works, but I'm sure it will be explained in Children of Virtue and Vengeance. 

Mini Spoiler: I was impressed with how well Adeyemi pulled off the enemies-to-lovers trope. Many characters in this trope have a surface-level hate or are merely annoyed with each other. But no. Zélie and the other person actually loathe one another, wish to kill each other, and have very solid reasons (at least to them) for doing so.
The pacing was fast, and I enjoyed jumping around to the different characters' perspectives. Zélie's brother did annoy me at times and was the most angsty, though I suppose he had some good reasons for feeling/behaving that way.
There weren't a ton of plot twists, though I wasn't expecting one character to act as he did toward the end of the book. There were a few times when Zélie encountered some challenges, and they were suddenly better without the solution being fully explained why, which was a bit confusing.
I look forward to continuing Zélie's journey in Children of Virtue and Vengeance. 
Trigger Warnings: Some gore, torture, off-scene sex