Standalone
Type of Fantasy: Heroic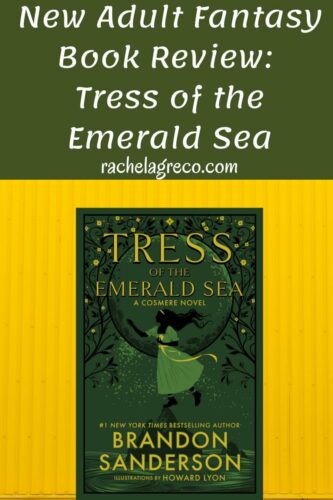 Synopsis
The only life Tress has known on her island home in an emerald-green ocean has been a simple one, with the simple pleasures of collecting cups brought by sailors from faraway lands and listening to stories told by her friend Charlie. But when his father takes him on a voyage to find a bride and disaster strikes, Tress must stow away on a ship and seek the Sorceress of the deadly Midnight Sea. Amid the spore oceans where pirates abound, can Tress leave her simple life behind and make her own place sailing a sea where a single drop of water can mean instant death?
My Thoughts 
Things I Liked:
The world. Sanderson's worlds are always blow-your-mind creative and fantastically well crafted. However, this one might blow the others out of the water with the different colored seas that are filled with deadly spores. That alone is intriguing enough to pick up the book!
Tress. She's such a sweet character who has so much depth below the surface, as the reader soon finds out.
The characters were all so varied and well-crafted, and all the main characters grow in one way or another by the end which was neat to see. The characters and their journeys ranged from funny to serious to downright bizarre, and by the end of the story, they felt like family.

Things I Didn't Like:
A few things were assumed about characters and magic systems as if the reader has read all of the Cosmosphere books and memorized them all. I've read a few, and a couple of things in this book rang bells, but that's about it. This is different than putting Easter eggs in a book; Easter eggs should be subtle enough that a reader who hasn't read the other books won't notice anything amiss. Alas, these references weren't that subtle, and I felt like I was missing something (or was foolish/dumb for not remembering–not the best feeling for a reader to experience).
The narrator was funny at times and then downright gross and weird at others. I get why, but I could have passed the potty humor and all the philosophizing.
Tress of the Emerald Sea was definitely different than Sanderson's other books–lighter, sillier, more fun–and a delight to read. It's a definite must read for any Sanderson fan, but also any fan of pirates, sailing, fantasy, and/or adventure books.
Have you read any books by Brandon Sanderson? Which were your favorites?