It's been a while since I've read Empire of Dragons by Rachel L. Schade, but I've wanted to do an author interview with Rachel since I read the book, because it was masterfully written (and she has my name ;). She weaves together dragons, morally grey characters, a princess held hostage, a soldier who may or may not like her, and another character bent on revenge. You can read my full review here.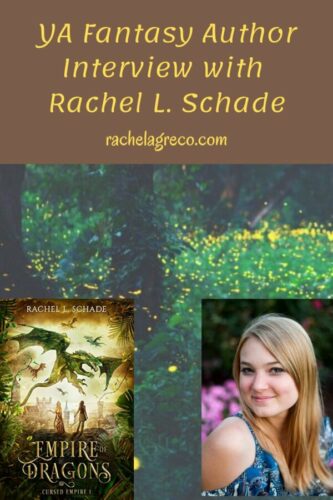 About the Book
Revenge failed her…
Three years ago, Lo'laeni Nolanhou did the unthinkable, slaying the empress of the cruel Alrenian Empire and freeing her people, the Forwyn slaves. But the price of revenge wasn't freedom, only guilt. Vowing to never kill again, Lo dedicated her life to the god Elhani, serving as a nun within the Circle of Serenity to fight against the injustices still wrought against her people in the torn capital of Alrenor.
Then Caesiem, a handsome and mysterious Teramese boy aligned with an underground Forwyn vigilante group, flips her world upside down. The unrest growing within Alrenor is worse than Lo realized. Corruption is everywhere…and the Forwyn vigilantes want an empress slayer.
Revenge fuels her…
For years, Empress Jaliana, Daughter of Karye, has been a captive in her own palace. A prisoner to her mother's killers. A powerless pawn, alone and unable to take back her throne, her dragons, or her kingdom.
Until one night a never-before-seen gift manifests itself within Jalie. It's terrifying. Brutal. Everything she has ever needed. But the Forwyn won't give in easily. They task Kovi, a young soldier, to watch over her, and he challenges everything she's ever believed about her enemies…
One empire. An age-old hatred. Two girls who will risk anything—even their souls—for their people.
1. Where did the idea for Empire of Dragons come from?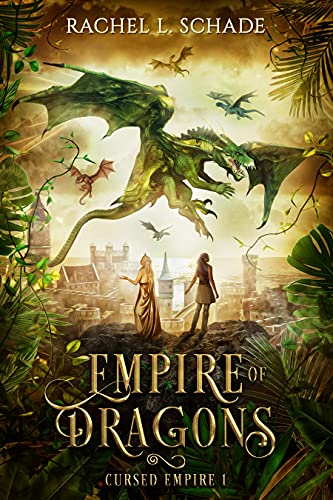 It actually started when I was drafting the final book in my previous series, set in the same world. I knew I wanted to explore this world more, and I had written about some side characters that I realized had stories of their own to tell. I started asking myself questions, like, "What happens after the heroes win?" and "What would happen to the villain's daughter after the villain was defeated?" And the more questions I asked, the more the story and characters came to life for me!
2. Your characters are so diverse and rich in this book. Even the ones that the reader might think are 'wrong' or 'evil' are shown to be doing, in their way of thinking, the right thing. How did you craft such strong, multi-faceted characters?
I spent time really thinking about what it would be like to be in each of my characters' heads, how they viewed the world. I really did want to show that there are a lot of shades of grey even in conflicts that seem to have an obvious "good" and "bad" side—mostly because the individuals on both sides can make mistakes and bad choices as well as good ones. I wanted the character that was an obvious villain—Jalie's mother—to be shown as more than a monster. I figure that even villains can love and care for their children…and what would it be like, to have a mother who truly adored you but turned out to be quite monstrous and awful to the world around you? That would surely create an intense internal struggle… And that's kind of the root of Jalie's character arc.
3. What was your favorite character to write? Least favorite?
I honestly don't have a favorite or least favorite to write in this story. Both Lo's and Jalie's viewpoints were fascinating for me, and I loved exploring the ways they were both similar and different. I think because some of Jalie's "action" and romance scenes happened faster, I was sometimes more excited to write her chapters, but I relate to Lo the most and knew she had big things coming in the series, so…yeah. I was pretty much consumed with both of their stories, which is maybe why this book was the fastest manuscript I've ever drafted!
4. I loved the world building in this book, especially surrounding Lo and the ribbons that her people use. Where did you get this idea from?
Thank you so much! To be honest, I don't exactly remember. I think some of the early ideas came from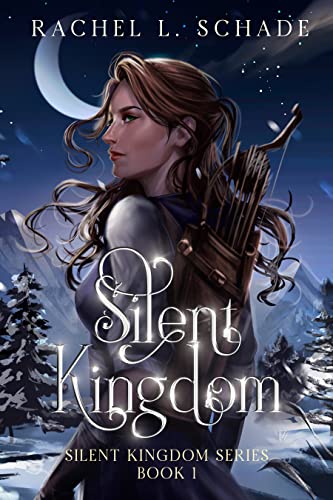 when I was drafting my series before this one, Silent Kingdom. In the final book, Broken Kingdom, my MC visits Alrenor and meets Lo when she's still a slave. I wanted it to be very obvious who was enslaved and who wasn't, so I thought the Alrenians making their slaves shave their hair would be noticeable. That made me wonder why it might be extra terrible for the Forwyn…and that's when I came up with an idea of ribbons often being worn in hair. It wasn't until Empire of Dragons, though, that I really got to explore the color significance and show Lo and her people wearing the ribbons in different ways.
5. The map at the beginning is beautiful. What was the mapmaking process like for you?
I already had an early map of the world from my first series, so that helped, but I wanted to add some more kingdoms from across the sea. I found a map making website (I can't remember the name) to help create a better draft than what my pitiful drawing skills could accomplish, and sent that and my old map to my designer to craft my map :).
6. Kovi and Jalie's relationship is so fun to read about, as they try to manipulate each other. What was it like creating these scenes?
I had so much fun with those scenes! Especially as the author, I was often laughing at those two a bit and the ways in which they refused to acknowledge their growing feelings and accept that they were actually alike in many ways. It was fun and intense to explore what it would be like to be trapped for days with someone you have basically been taught since birth to hate, someone who has a connection to the loss of your mother. In a way, Jalie is kind of a soldier too, like Kovi. Both have been trained to be strategists and to outmaneuver their enemies, and both are clever. But both are also in a lot of denial as they start to understand and care about one another more, which added a fun extra layer to their dynamic, a playfulness and almost gentleness at times to something that would normally be deadly serious to them both. They are full of contrasts, and that was super interesting!
7. What's your favorite part of the writing process? Least favorite?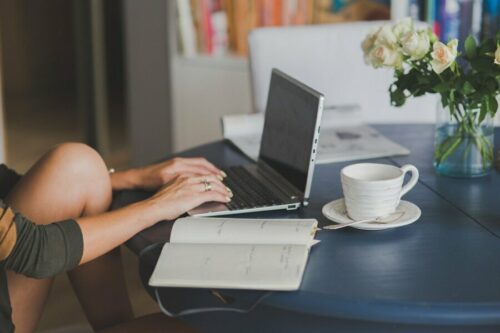 I feel like this can change from book to book. Or moment to moment… Sometimes I feel like drafting is my favorite, because I get to see where the story ultimately takes me (I'm usually, for the most part, a pantser, or at least a plantser). But other times, I long to get to the editing and revision stage so I can see it all be polished and come together. I think my least favorite will always be the actual publishing process. Uploading files, formatting and checking formatting, and all the hassle that comes with ensuring I get everything just perfect…while kind of at the mercy of my printer and whether or not they are on schedule or randomly run weeks behind. I don't like that lack of control!
8. What made you want to self-publish?
To be honest, when I first started, I didn't consider anything else. I had a children's book my grandma had illustrated that I wanted to publish, I was working for a small press at the time that offered authors editing and design services on their road to self-publishing, and I decided to go for it. My first edition of my first novel was also edited and published through them. Later, I realized I'd prefer full control by hiring my own designers and managing my own editing, so I dove fully into indie publishing. I've considered traditional publishing in the past after publishing a couple novels (because self-publishing is so expensive and sometimes I DO just want to focus on writing only), but then I realized that my goals were better fulfilled sticking with this route. I love being able to release books on my own schedule and being able to choose my covers, formatting, etc.
9. What was the most challenging part of writing/creating Empire of Dragons?
It was the first time I'd written multiple POVs consistently through an entire series, so making sure the timelines matched up (even if my characters are in different places for most of the book) and making sure they both felt like their own individuals was probably the hardest part. Especially as the series continued and I added some more POVs…
10. What can readers expect from the other books in the series (without giving too much away!)?
This series will keep getting more and more intense as the empire creeps toward war. Expect betrayal and all the feelings as our two couples explore forbidden love/enemies to lovers dynamics and all the complications those entail. Expect lots more meddling from Nesrelle, Queen of Death. Things will get pretty dark, but there are always moments of hope sprinkled throughout the series. I do like to warn my readers that I tend toward bittersweet emotions. I believe in gritty and hard-won victories, and I don't like spoilers…so I'm not going to say what to expect as far as the ending goes. But I WILL say that there are cliffhangers for all of the books leading into the fourth and final one.
About Rachel L. Schade
Rachel L. Schade was born on the first day of summer in a small town in Michigan. She attended the Ohio State University to learn how to write obnoxiously long papers, cite people who use big words, and discuss her passion: books. She has a great love for the color blue, sunshine, chocolate, and not folding her laundry. Currently she lives with her husband and fur babies and surrounds herself with books and coffee on a regular basis.
Where to Find Rachel L. Schade and Her Books 
Books: https://www.books2read.com/eodschade
TikTok: @rachelschadeauthor 
Instagram: @rachelschadeauthor
Website: www.rachelschadeauthor.com
Facebook and Goodreads: Rachel L. Schade
Email: rachelschade@gmail.com
What would you ask Rachel L. Schade or any author if given the opportunity?