Synopsis
What one sister has, she must share with the other…
Snow loves music. She has spent her entire life learning, new instruments and memorizing new pieces, only to while away her life in a country manor with only her mother and twin sister as company. If only she could get out on her own and play in front of a real audience.
Rose loves magic. The things she can do with music would amaze her twin sister, but whenever she shows her, Snow quickly forgets as if the event had never happened. If only Rose could get out on her own and work some real magic.
When an airship crashes near their home Snow's magical abilities awaken. Together the sisters must learn to use their magic, rescue a pair of cursed princes, and discover their own secrets.
Discover the magic of music in this retelling of Snow White and Rose Red.
My Thoughts
This was a lovely, sweet tale about two sisters who learn they aren't who they thought they were. I loved how their relationship remained the primary focus of the book even when two handsome young men entered the story. How refreshing not to have the plot revolve around romance!
I loved how the sisters' magic worked–through music. I sadly haven't read many fantasy books where musical instruments are the implements of magic, but that's definitely a key component in Runaway Lyrics. And it had one of my favorite instruments–a violin! It was neat to see how one of the sisters' knowledge of magic grew and changed over the course of the novel. By the end, both sisters were pretty unstoppable, and there did seem to be a need for a check on their magic or some consequences.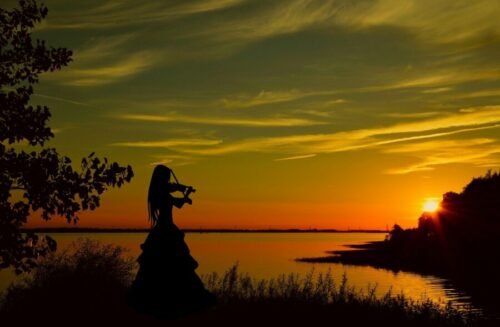 It was a little strange how their father wasn't mentioned until about halfway through the book. It was as if they had never had one.
Some of the magic which related to the young men wasn't explained super well and seemed rather arbitrary about how it worked. I would have loved a little more reasoning for why it worked the way it did.
I don't recall any Snow White references, but perhaps I just missed them? There were no poisoned apples or sleeping curses, though there were other kinds of curses and two handsome princes. I'm also not familiar with the retelling of Rose Red, so I have no idea how many (if any) references there were to that retelling.
The steampunk elements, like their mechanical butler, and the steam car, were a fun element to the story, and I wouldn't have minded seeing more of them.
Overall, I enjoyed my jaunt with Snow and Rose, and I look forward to reading the sequel whenever Bonham publishes it!
What are some of your favorite fairy tale retellings?