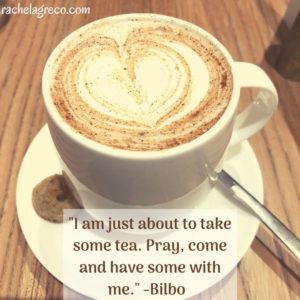 Are you a tea connoisseur? Even if you don't make excuses to sip tea like I do, the drink is still a nice way to make that time with a book super special–whether it's over a refreshing glass of iced tea at lunch or sipping a soothing cup of chamomile in the evening.
I hope this list gives you some good ideas of what tea to sip with your next book!
Chamomile: With its flowery notes and hints of sunny days, this tea pairs well with The Secret Garden–especially when read on a porch overlooking flowered pots or bounteous blooming beds.
Herbal Chai: I'm not a huge lover of herbal teas (or herbal infusions as some call them), but this one is my favorite! It contains all the deliciousness of chai while remaining caffeine free. Its spiciness recalls the exciting events in the  Skyward series. It'd also make a romance-read extra cozy.
Chocolate Mint: My second favorite herbal 'tea' is best drunk with a thoughtful and lingering book, like All the Light We Cannot See. 
Earl Grey: Agatha Christie's elegant mysteries and daring protagonists fit this equally elegant and daring tea, as does Jane Austen's female protagonists.
English Breakfast: You could read any British novel with this tea, but this classic British tea would make that reading time extra special if paired with a classic and iconic British series: Harry Potter.
Tazo/Masala Chai: If you don't have any books based in India or Nepal on hand, where this tea originates, then try it with The Lord of the Rings. This bold, dark drink with spicy hints of light reminds me of the bold hobbits, the darkness throughout the series, and the light that eventually conquers.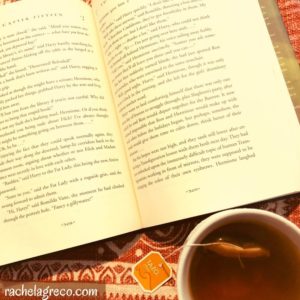 Pistachio Black: I love teas with nutty flavors. This unique, fun blend pairs well with Cinder–a delightful futuristic twist on the original Cinderella fairy tale.
Irish Breakfast: Sip this black tea while diving into Heartless, where nothing is as it seems.
Fruity Black Teas: When feeling hot and in the mood for a trip to the sea, sip a mango, peach, or other refreshing iced fruity black tea when reading an ocean or beach-themed book such as Aquamarine or Coral. I haven't read it yet, but I can imagine one of these iced teas would also be an extra-sweet treat while reading Where the Crawdads Sing. 
Cinnamon: Either caffeinated or not, this earthy, exotic drink is a nice addition while perusing All the Crooked Saints–a magical realism book that takes place in an enchanting desert containing plenty of odd and exotic surprises.
What are some of your favorite teas? What books would you read with them?
*This post was inspired by the Tea and Ink Society's Book and Tea Pairings to Elevate Your Reading Time post, which you can read here.