The Hunger Games meets the vikings in this visceral debut by Adrienne Young. Like Katniss, seventeen-year-old Eelyn lives in a violent world and possesses the fierce heart of a warrior.
Eelyn joins her Aska clansmen every five years in fighting their ancient enemy–the Riki clan–until she spots her presumed dead brother fighting alongside the Riki. Eelyn must survive a winter with the Riki, heartbroken over her brother's betrayal. But when an enemy more evil than the Riki emerges out of the mountains, Eelyn must decide if she can lay down a centuries-old rivalry to unite the Aska and Riki before they're both completely destroyed.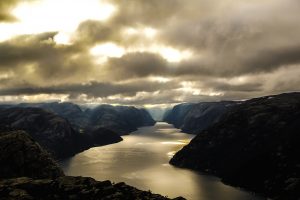 Not many YA books I've read center on a brother/sister relationship, so that was a nice change and felt real. Eelyn's relationship with her presumably dead brother becomes complex quickly as she struggles with betrayal that he could do such a thing as fight with her enemies, guilt (which I didn't think was a rash emotion to have, but emotions are rarely rash), and a love that is as constant as the sun's rising. I'm a theme girl, and I love the ones Adrienne has sewn into this novel through Eelyn's relationships: overcoming prejudices, trust, betrayal, grief, and forgiveness.
One reason I read is to travel cheaply (or even for free!). In Sky in the Deep I was able to see the stark wintry beauty of gleaming fjords, hush-quiet mountains, and northern-light-dancing winter skies. What a beautiful, majestic world Adrienne captured even amid the violence and chaos of this culture.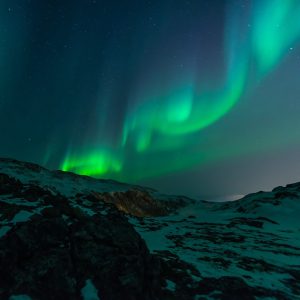 Speaking of which, it was hard to swallow the violence of this book. I think what made it more difficult than reading The Hunger Games was that the MC (main character), Eelyn, didn't seem affected or bothered by the lives she took. It wasn't until about halfway or possibly even more than halfway through that Eelyn showed a spark of revulsion to the violence, and even then, it was to torture, not killing.
I'm also getting weary of female characters with an attitude of 'let's kill/destroy things and conquer the world so we can have a better life!' It'd be nice to have a female MC who doesn't like weapons or blood. But I guess that would make for a pretty boring book…
I was expecting this book to be fantasy based off various things I'd read about it, but there weren't many fantastical elements other than a goddess who turns into a bear and the made-up culture. So if you're craving dragons, elves, or magic, you'll have to look elsewhere.
There were also a ton of run-on sentences that may seem like a small thing, but after a while, they became an itch I couldn't scratch. But the book was exciting enough that it yanked me through this annoyance to the thrilling conclusion.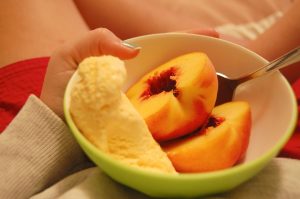 Sky in the Deep wasn't quite the caramel crunch ice cream cone I ordered–it was more of a peach-flavored bowl of ice cream, but still tasty nonetheless. I look forward to reading her newest novel, The Girl the Sea Gave Back, though the plot looks dangerously similar to Sky in the Deep, so it's currently not high on my to-read list.
What books have you read lately that were different than you expected? Were they different in a positive or negative way?