The movie, Oceans 11, meets explosive magic in Six of Crows, the first book in this action-packed duology. Six outcasts band together in an attempt to pull of an incredible heist for an insane amount of money. Meet the crew:
A convict with a thirst for revenge
A sharpshooter who can't walk away from a wager 
A runaway with a privileged past 
A spy known as the Wraith 
A Heartrender using her magic to survive the slums 
A thief with a gift for unlikely escapes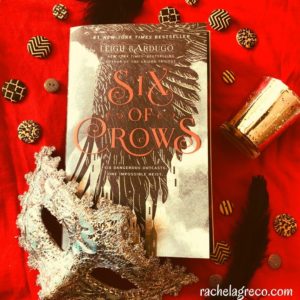 Although the crew is rough around the edges, I came to love them as my family by the end of the novel. These characters are some of the most real ones that I've met in books. They all have their own inner struggles and unique personalities. I loved watching them interact with each other and laughed at their teasing banter. Their love and loyalty for each other cannot be matched and is one of the best things about this crew of unlikely heroes.
It did take a while for me to warm up to them, and some definitely have a warmer spot in my heart than others. Nina, the Heartrender, and Inej, the Wraith, were my favorites, probably because they are the most compassionate/merciful of the crew.
Besides watching the characters grow and smiling at their jests, I thoroughly enjoyed the flashbacks into the past which Bardugo expertly weaves into her tale. Each flashback was a treat: a story-within-a-story of how the characters ended up in the city of Ketterdam and who they are. These memories added so much depth to the characters and helped me understand and empathize with their decisions–even if I didn't personally agree with those decisions.
I also loved exploring the world Bardugo crafted. She fills each country and character with different worldviews, beliefs, and fascinating cultures. It was fun to see how they clashed or merged together in the characters' lives and in Ketterdam. I didn't particularly enjoy the smelly, dirty streets the characters explored in the city, but the characters weren't in it long as they journey north to complete their heist.
One of my favorite parts about this book and this series is how the author conned the reader. This occurred more often in Six of Crows than in Crooked Kingdom. Bardugo gives the reader enough information so they feel like they are part of the plan and crew. But you still get slapped (in the best way 😉 by shocking twists and surprises when you learn the real motivations of certain decisions or new phases of the plan after the fact. I don't know about you, but I love being surprised while reading, so this was a wonderful treat.
As I mentioned, these 'reader cons' didn't occur as much in Crooked Kingdom, the sequel, since the characters stay closer to home (Ketterdam) and perform smaller-scale heists. For that reason, this book didn't have that same weight or power as the first book and I'd rate it one star lower.
There also weren't as many flashbacks, which I had found so riveting in the first novel. I still enjoyed the characters and banter in the sequel, but I wished Kaz, the leader of the crew, could have grown and changed more visibly. I still didn't like him much at the end of the series, and I'm not quite sure what a certain character sees in him…
I was also quite upset when Bardugo killed one of my favorite (male) characters! But that's all I'll say about that for now ;).
Despite its few awkward and violent scenes, I enjoyed the continued fast-paced action of Crooked Kingdom and how Bardugo could so masterfully surprise the characters and me so quickly. The characters learn so much about themselves and each other and remain faithfully loyal to the end of the series.
What a rich, complex, bitterly-sweet brownie chocolate sundae this book was! I recommend it for anyone who loves antiheroes, action, magic, exploring new places, and, of course, a good heist.
What are some good heist books or movies that you've read?