1st in the Six Crimson Cranes Duology 
Type of Fantasy: Divine/Mythic
Synopsis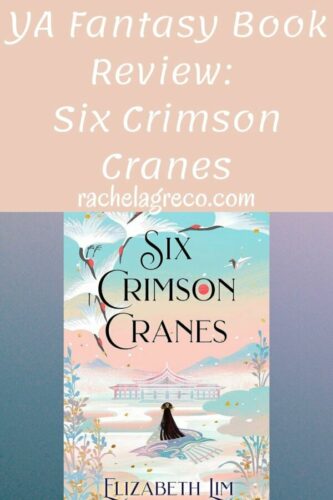 Shiori, the only princess of Kiata, has a secret. Forbidden magic runs through her veins. Normally she conceals it well, but on the morning of her betrothal ceremony, Shiori loses control. At first, her mistake seems like a stroke of luck, forestalling the wedding she never wanted, but it also catches the attention of Raikama, her stepmother.
Raikama has dark magic of her own, and she banishes the young princess, turning her brothers into cranes, and warning Shiori that she must speak of it to no one: for with every word that escapes her lips, one of her brothers will die.
Penniless, voiceless, and alone, Shiori searches for her brothers, and, on her journey, uncovers a conspiracy to overtake the throne—a conspiracy more twisted and deceitful, more cunning and complex, than even Raikama's betrayal. Only Shiori can set the kingdom to rights, but to do so she must place her trust in the very boy she fought so hard not to marry. And she must embrace the magic she's been taught all her life to contain—no matter what it costs her.
My Thoughts 
I had high expectations of Six Crimson Cranes because I enjoyed Spin the Dawn so much. Unfortunately, it didn't quite live up to them. The world is the same as that in Spin the Dawn, though a different kingdom. It seemed like Lim relied too much on her readers being familiar with the Spin the Dawn duology and didn't explain the gods or the magic system as well as she could have. It had been a while since I'd read Spin the Dawn, so I had a hard time reorienting myself to this world and remembering how it worked.
The descriptions were lovely, especially those about the food. I wanted to try them all! Anyone up for an Elizabeth Lim book-themed party? 😉
Shirori seemed a bit foolish at times, and I had a hard time understanding her motivations at different points. I do admire her love for her brothers, and that was a sweet dynamic to watch over the course of the book. Her paper bird is also pretty cool.
Once Shirori lost her voice, it was difficult knowing what she was thinking vs. what she was gesturing or mouthing to others. I'm honestly surprised so many characters could understand her because I'm horrible at reading lips.
The twists weren't all that surprising except for the one at the end. I just wished their had been more info about her stepmother; things weren't explained or cleared up as much as I'd expected. I'm hoping they will be in the sequel, Dragon's Promise, which comes out this year. And her friend at the beginning didn't seem to have a huge role in the book, and I was a little at a loss as to his role in the story.
Six of Cranes was still an enjoyable read overall, and I recommend it for anyone who enjoys fast-paced books, clean romance, danger, and family themes.
What bookish food would you most want to try?