A legendary competition. A mesmerizing romance. An unbreakable bond between two sisters. 
Scarlett Dragna has never left the island where she and her sister, Tella, live. Although Tella is squirming to escape and flee their powerful, cruel father's grasp, Scarlett believes her opportunity for freedom lies in an arranged marriage with a nobleman.
This year, Scarlett's long-dreamt-of invitation to the magical Caraval performance comes true and Tella whisks her off the island with the help of a mysterious sailor. But as soon as they arrive, Tella is kidnapped as part of the performance. Scarlett must find her sister before the five nights of Caraval are over and her sister disappears forever.
What a circus-ride of a book! Stephanie Garber is a fabulously talented author. I savored each of her exquisite, enchanting details that rooted me in the dream-like atmosphere of this book. The characters were well developed and surprised both me and Scarlett by the end of the novel.
I thought I knew the characters, but each one, even Scarlett and Tella's father, held more depth than I would have guessed. I didn't care much for Tella at the beginning, but she grew on me, and my opinion of her changed at the end. I did sometimes wonder why Scarlett was sacrificing so much for her, since it was clear Tella didn't love Scarlett as much as Scarlett loved her. It would have helped to have another scene or two of Tella and Scarlett getting along.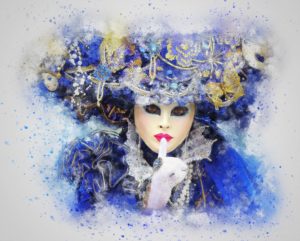 Each page and scene in Caraval is a spinning ride whirling the reader toward the dizzying climax–and what a climax it was! I won't give anything away, but it rocked my world. I'm still a bit dazzled and should probably reread the last few pages just to make sure I truly understood what happened. If you've read the novel, I'd love to discuss the ending with you!
The one thing I wasn't 100% sold on and which lowered the book's rating from a 5 to a 4 was the focus on romance. The love interest was a bit too good-looking and Scarlett fell in love a little too quickly for my liking. I don't mind romance in fantasy, but I don't enjoy it taking main stage, as it tended to in Caraval. But other than that, this novel was pretty perfect–a sorbet lined with sugar-frosted berries–and I can't wait to read the sequel, Legendary. 
What books contain some of your favorite endings?