Shadow and Bone 
1st of the Shadow and Bone trilogy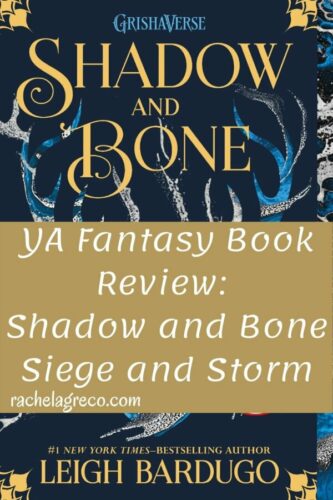 Type of Fantasy: Heroic 
Synopsis 
Surrounded by enemies, the once-great nation of Ravka has been torn in two by the Shadow Fold, a swath of near impenetrable darkness crawling with monsters who feast on human flesh. Now its fate may rest on the shoulders of one lonely refugee.
Alina Starkov has never been good at anything. But when her regiment is attacked on the Fold and her best friend is brutally injured, Alina reveals a dormant power that saves his life—a power that could be the key to setting her war-ravaged country free. Wrenched from everything she knows, Alina is whisked away to the royal court to be trained as a member of the Grisha, the magical elite led by the mysterious Darkling.
Yet nothing in this lavish world is what it seems. With darkness looming and an entire kingdom depending on her untamed power, Alina will have to confront the secrets of the Grisha . . . and the secrets of her heart.
My Thoughts 
The plot of Shadow and Bone was a pretty typical Chosen One trope, where the person who's common and has no powers suddenly does and is tasked with saving the world (yay for Harry Potter!). However, the worldbuilding was fantastic. Leigh Bardugo crafted many countries, wars and tensions between them, saints the people venerate, and the magical Grisha.
Alina's dry wit delighted me, especially when she used it with Mal. And Mal. Oh my. What an amazing sweetheart! If I wasn't married already, I'd find a wizard to cast me into this world to join my life with his. Although he's not perfect, Mal's motives are golden, and he's so brave and determined to protect Alina at the cost of his own life. Alright. I'm done swooning now ;).
This book is a whirlwind of action that hardly ever stops. About halfway through I was taken aback by a twist that I didn't see coming, but which was expertly done. *Claps*.
The characters, from Mal's steadiness to old Bagrah's vitriol, come alive in the pages and each person has their own fears, trials, and strengths. Leigh Bardugo did an excellent job putting color and life into her large cast of characters.

Siege and Storm
The sequel to Shadow and Bone 
Type of Fantasy: Heroic 
Synopsis (spoilers for Shadow and Bone) 
Hunted across the True Sea, haunted by the lives she took on the Fold, Alina must try to make a life with Mal in an unfamiliar land, all while keeping her identity as the Sun Summoner a secret. But she can't outrun her past or her destiny for long.
The Darkling has emerged from the Shadow Fold with a terrifying new power and a dangerous plan that will test the very boundaries of the natural world. With the help of a notorious privateer, Alina returns to the country she abandoned, determined to fight the forces gathering against Ravka. But as her power grows, Alina slips deeper into the Darkling's game of forbidden magic, and farther away from Mal. Somehow, she will have to choose between her country, her power, and the love she always thought would guide her—or risk losing everything to the oncoming storm.
My Thoughts 
This book has my very favorite character, and I can't say who because of spoilers, but he's so fun! His cocky, glib personality is my favorite part of Siege and Storm and puts the lightheartedness in the book. Without him, I probably would have rated the story at star or two lower.
Partly because of this character, I enjoyed the first half immensely. It was rife with pirates, deceptions, prisoners, plots-within-plots. So much happened that I almost had a nervous breakdown wondering if Alina and Mal would survive.
The pace soon came to a jerking halt about halfway as Alina and the other Grisha prepare for their fight against the Darkling. And that's about all they do. Prepare. Not super thrilling to read.
Also, Mal and Alina's relationship becomes tangled, and there's just so much more drama in this book and the first one. Drama with Mal, drama between the Grisha, drama between Alina and the Darkling. I'm not a huge fan of this kind of relational drama when I'm expecting action and magic as the star of the show, so it was a bit of a letdown.
Near the end of the story, Alina begins turning into someone I don't care much about. I miss her more lighthearted personality from the first book, but I guess we all have to grow up sometime…
I've already begun the third and final book in the series, Ruin and Rising, and so far I like it much better than the sequel. So just push through the difficult middle, and hopefully it will end in a breathtaking finale!
Would you rather read trilogies or duologies?