The sun is beating down here in North Carolina, which means it's time to disappear into cool, crystal-blue water, letting the ocean waves drown out the worries of life and wash away all that icky sweat.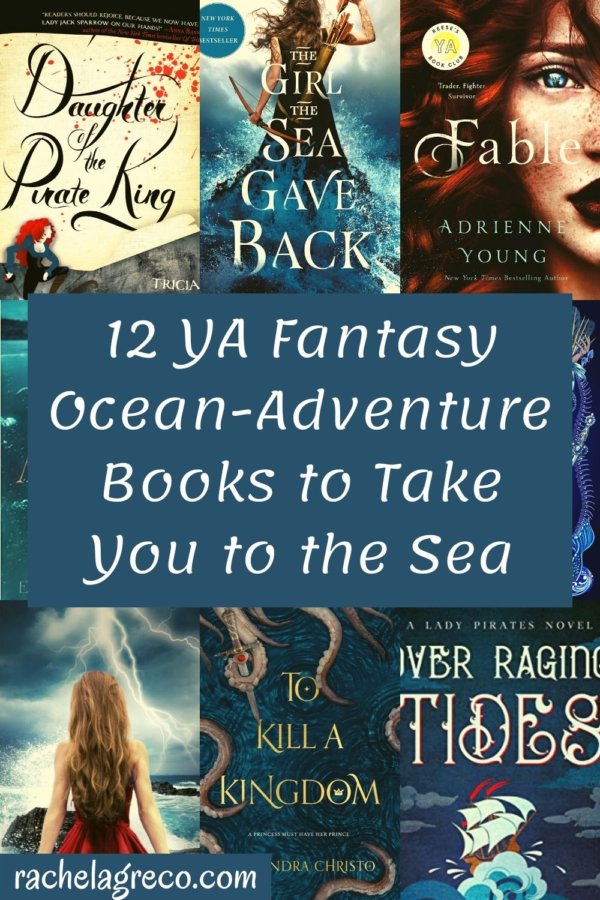 There's just something about the summer that makes me long for the sea, probably because my family spent a week with my grandparents near the sea every summer (though the water was more brown than blue ;).
Even if you're unable to take a vacation at the beach this summer, these reads are sure to bring its coolness and mystery to you.
Fable by Adrienne Young: Fable, the daughter of a powerful trader, was abandoned on an island by that father after her mother died in a storm. She does everything she can to get off the island and earn a spot beside her father. But the danger of the have grown since Fable last stood on a boat.
Namesake by Adrienne Young: A thrilling conclusion to Fable, where she's caught up in schemes beyond her control. A beautiful ending to the tale of this fiery pirate and those she loves!
Macario's Scepter by M.J. McGriff: Like Fable, Samara's stranded on an island in this heroic fantasy novel. Unlike Fable, her former pirate captain left her there after breaking her heart. When her ex-lover shows up, offering the chance at finding magic treasure and revenge, she jumps at the chance. But she'd forgotten to take into account her religious twin sister…
Daughter of the Pirate King: Pirate-captain Alosa must retrieve an ancient hidden map to find a legendary treasure trove. She allows herself to be captured by her enemies in order to search their ship.
This book sounds like it could have a lovely enemies-to-lovers trope (my favorite!).
Crown of Coral and Pearl by Mara Rutherford: More twin sisters can be found in this lovely duology, and the sea is an atmospheric tool, like in House of Salt and Sorrows. For generations, the princes of Ilara have married the most beautiful maidens from the ocean village of Varenia. But though every girl longs to be chosen as the next princess, the cost of becoming royalty is higher than any of them could ever imagine…
These Rebel Waves by Sara Raasch: The author of the YA fantasy trilogy, Snow Like Ashes, is back with pirates in this exciting new duology. Five years ago, Adeluna helped overthrow an island's oppressor. When a delegate vanishes, Adeluna suspects something or someone dangerous. Devereux pirates the island's magic plants and sells them on the black market. When he becomes a target, he promises to help Adeluna find the missing diplomat.
Seaspoken by Sarah Delena White: In this standalone fantasy romance, Evya longs for a truce between her sea-dwelling tribe and the elven invaders. But her mother, the Seamother, will stop at nothing to see the elves destroyed. As the greatest warriors vie for Evya's favor, she falls for a man who should be her mortal enemy. Is their love powerful enough to end a war?
The Girl the Sea Gave Back by Adrienne Young: In a world similar to that of Sky in the Deep, Tova lives among the Svell, the people who found her washed ashore as a child and use her for her gift as a Truthtongue. She has found a fragile place among those who fear her, but when two clans to the east bury their age-old blood feud and join together as one, her world is dangerously close to collapse.
To Kill a Kingdom by Alexandra Christo: Lira is siren royalty and the most lethal of them all. With the hearts of seventeen princes in her collection, she is revered across the sea. Until a twist of fate forces her to kill one of her own. To punish her daughter, the Sea Queen transforms Lira into the one thing they loathe most—a human. Robbed of her song, Lira has until the winter solstice to deliver Prince Elian's heart to the Sea Queen or remain a human forever.
All the Stars and Teeth by Adalyn Grace: As princess to an island kingdom, Amora has spent her entire life training to be High Animancer— the master of souls. When the demonstration of her power goes awry, Amora is forced to flee. She strikes a deal with Bastian, a mysterious pirate: he'll help her prove she's fit to rule, if she'll help him reclaim his stolen magic.
The Last Atlantean by Emily Hayse: A historical fantasy book about Hattie, a lighthouse keeper's daughter, who becomes caught in a high-stakes game when a stranger washes ashore in a storm. As kings and pawns prepare for a showdown that will determine the fate of an ancient world, Hattie wonders whether she has thrown in her lot with the hero or the villain.
The reviews for this book are excellent, so I can't wait to dive in and visit Atlantis!
Over Raging Tides by Jennifer Ellision: Another YA historical fantasy novel, but this one has pirates! The crew of the Lady Luck lives by many rules, but chief among them is this: they do not allow men on board. Grace Porter's willing to break this rule when a shipwrecked young nobleman offers her information of an omniscient map, stolen from his warship by an enemy vessel. Until now, the map was only the stuff of legend… but with its help, Grace may finally be able to hunt down the Mordgris, the sea monsters who stole her mother away from her. Unfortunately, some members of her crew have other plans…
Which of these books look the best to you?